Wilczek Woodworks WIN Carts and Wagons
About Our WIN Carts and Wagons
We have heard you! For years, we have received nice notes and compliments about our products from prospective customers. Sometimes, they were not able to wait or their budget constraints did not allow them to purchase one of our custom carts or wagons. Despite their customer loyalty and appreciation of our service and products, they would go elsewhere.
Now, we have an alternative for them. We are proud to introduce our new line of WIN carts and wagons. WIN is the acronym for "Want It Now".
In 2012 we added a new size to the very popular WIN line. Introducing the WIN mid-size cart. This is the perfect size for someone who is looking for something a little bigger than the small WIN cart, and a little smaller then our large WIN Cart. This is a great cart for someone who wants to be able to convert over to brace, but do not want the size of the large cart.
We have found a quality craftsman to make cart tops and wagons for us. They can be shipped out without delay and best of all; they have very nice quality for a very good price.
The WIN carts have the same high quality aluminum shafts, undercarriages, axles, and wheels as our custom carts. We assemble the cart under carriages to ensure that all the equipment is safe and well balanced. The mid-size and large carts can be upgraded for brace work.
All the WIN wagons have pneumatic tires with a minimum of 5/8 inch axles. Light weight metal or aluminum shafts are included! If you are looking for a specific size we are not carrying, please contact us.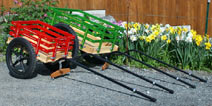 WIN Carts size comparison
WIN Carts
The WIN Cart features include:
Solid Eastern Hardwood sides and slats
Baltic Birch plywood bottom
4-section, removable, painted slats
Pneumatic tires
Black fiberglass wheels
Heavy duty 5/8" stainless steel axle
2-position axle height
Adjustable width black powder coated aluminum shafts
Shafts and wheels easily removed
Wood tree
Exterior finish
Standard Slat Color - Red with White Pin Stripes
Optional Slat Color - John Deere Green with Yellow Pin Stripes
Optional Slat Color - Blue with White Pin Stripes
Optional Slat Color - Pink with White Pin Stripes
Optional Slat Color - Clear with Black Pin Stripes - $10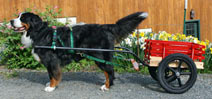 Small WIN Cart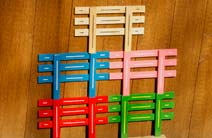 WIN Carts & Wagons Slats color options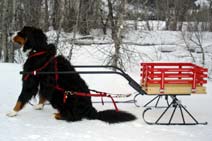 Churchill with a Small WIN cart with optional Metal Sleigh Runners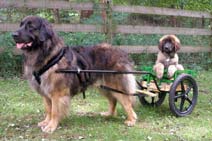 GCH Mr Simply A mason NDDRN Koosa van Leodipako with a small WIN Cart with optional 20 inch wheels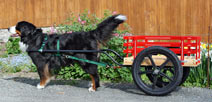 Large WIN Cart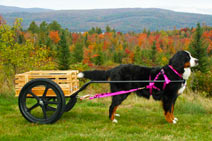 WIN mid-size cart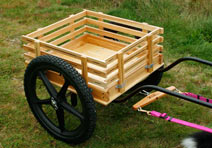 WIN mid-size cart close-up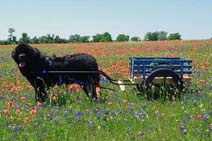 Saphira with her Large WIN Cart
1521 (Small) WIN Cart ... $369
Standard -15" W X 21" L
Option - 21" W X 15" L
Weight ~ 29 lbs.
16" Black Fiberglass Wheels
Optional 20" Black Fiberglass Wheels Upgrade ... $20
Optional Weight Insert ... $49
Optional Sleigh Runners ... $89
2123 (MID-SIZE) WIN CART ... $379
21"W x 23"L
Weight = 34 lbs
20" Black Fiberglass Wheels
Optional 16" Black Fiberglass Wheels ... N/C
Optional Weight Insert ... $79
Optional Brace Upgrade ... $140
Optional Sleigh Runners ... $89
2329 (Large) WIN Cart ... $389
23" W X 29" L
Weight ~ 45 lbs.
20" Black Fiberglass Wheels
Optional 16" Black Fiberglass Wheels ... N/C
Optional Weight Insert ... $79
Optional Brace Upgrade ... $140
Optional Sleigh Runners ... $89
WIN Wagons
The WIN Wagon features include:
Solid Eastern Hardwood sides and slats
Baltic Birch plywood bottom
4-section, removable, painted slats
Pneumatic tires
Auto-Turn Steering
Shafts are included!
Wood tree
Exterior finish
Standard Slat Color - Red with White Pin Stripes
Optional Slat Color - John Deere Green with Yellow Pin Stripes
Optional Slat Color - Blue with White Pin Stripes
Optional Slat Color - Pink with White Pin Stripes
Optional Slat Color - Clear with Black Pin Stripes... $15

1836 WIN Wagon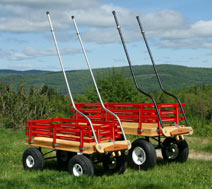 WIN Wagon Size Comparison:
1836 Versus 2448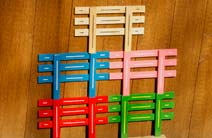 WIN Carts & Wagons Slats color options
1836 (Standard) WIN Wagon ... $279
(Due to weight and size, extra shipping charges may apply)
18" W X 36" L
Weight ~ 50 lbs.
10" pneumatic tires
5/8" axle
800 lb. load capacity
Light-weight steel shafts
Optional Aluminum Shafts Upgrade... $45
Optional Brace Single Shaft ... $150
Optional single or double seat insert ... call for prices
Three Shaft Brace for Wagons ... $170
2040 (Large) WIN Wagon ... $299
(Due to weight and size, extra shipping charges may apply)
20" W X 40" L
Weight ~ 60 lbs.
10" pneumatic tires
5/8" axle
1000 lb. load capacity
Light-weight steel shafts
Optional Aluminum Shafts Upgrade ... $45
Optional Brace Single Shaft ... $150
Optional Brakes ... $25
Optional single or double seat insert ... call for prices
Three Shaft Brace for Wagons ... $170
2440 (Extra Large) WIN Wagon ... $399
(Due to weight and size, extra shipping charges may apply)
24" W X 40" L
Weight ~ 95 lbs.
13" X 6-1/2" extra wide pneumatic turf tires
3/4" axle
1100 lb. load capacity
Black powder coated aluminum shafts
Optional Brace Single Shaft ... $150
Optional Brakes ... $25
Optional single or double seat insert ... call for prices
Three Shaft Brace for Wagons ... $170

2448 WIN Wagon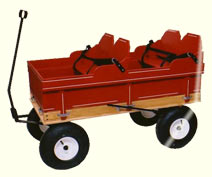 Optional Double Seat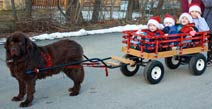 Betty Johnson's Newfoundland pulling the grandkids in a Jumbo WIN Wagon
2448 (Jumbo) WIN Wagon ... $399
(Due to weight and size, extra shipping charges may apply)
24" W X 48" W
Weight ~ 95 lbs.
13" pneumatic tires
3/4" axle
1200 lb. load capacity
Black powder coated aluminum shafts
Standard Brakes
Optional Brace Single Shaft ... $150
Optional single or double seat insert ... call for prices
Three Shaft Brace for Wagons ... $170