Before you get started...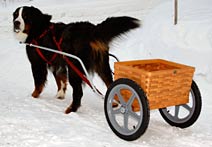 Deluxe 16" Training Wheel Cart With Wooden Basket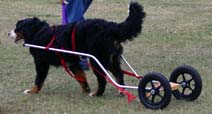 Nine month old Nikko pulling Training Wheels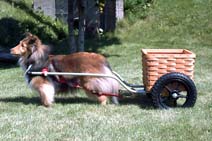 Taylor with Custom Sized Training Wheels with our Custom Peterbro Basket
Take your dog to his veterinarian for a check up. You want to be positive that your dog is physically sound and capable of pulling weight. Veterinary clearance is essential to your dog's health and safety.
Be sure your dog has a solid training foundation. He should pay attention to you, respond quickly to your commands and know the basics: sit, down, stay and walking nicely on lead in heel position. If his foundation isn't solid, consider taking a basic obedience class before you begin draft work.
Learn the other commands and skills your dog will need to know for draft work and begin to teach him those commands.
Don't be in a hurry. There's a lot for your dog to learn, and a lot of equipment for him to get used to. He'll need to learn in very small steps. It may be several weeks before you can actually hook him up to a cart.
Remember that dogs should not pull any weight until they are physically mature. If you start training with a pup, acclimation to equipment and dragging light loads (like an empty paper bag or milk jug) should be his limit.
Keep it light and have fun! Your most important role as a handler is to make sure your dog feels safe and enjoys what he is doing!
Instructional books are available and we can also provide private lessons and workshops.
You may also be interested in the NEW Training Videos
Carting Starter Kit
The Starter Kit contains everything you need to begin carting at a discounted price.
Training Wheels
A lightweight cart with platform for optional wooden or wire Basket or customer supplied Freight Box. Training wheels have removable, bent metal shafts, a wood tree and 12.5" or 16" pneumatic tires. For more information see our carts page.
We can now make custom sizes for small dogs.
Wilczek Siwash Dog Carting Harness This specialty nylon harness must be sized for your dog. Very specific measurements (click here for measuring info) will be required to ensure proper fit. We may contact you to confirm all measurements. This same harness may be used with all of our carts and wagons.
"Sacrificial" Tree When your dog first begins training for this sport, he will drag lightweight items behind him on the ground (no cart yet!). The tree (normally connects harness traces to the cart) will drag on the ground during early training. This "sacrificial" tree is provided specifically because it will be damaged during training.
Manual: "Fun with Draft-Canine Training Workbook" This workbook has been produced by Phil Chagnon and Lea Doane to introduce dog lovers and their canine companions to the sport of Draft. It is a training reference guide for all levels of draft work.
Basic 12.5" Starter Kit... $215
Basic 16" Starter Kit... $255
Deluxe 16" Starter Kit
Our very popular Training Wheels have gotten a little bigger. We have added 16" plastic wheels and your choice of a wooden or wire basket. The Peterboro Basket Company, established in 1854, has made a custom-sized, hand-made wooden basket just for us. This honey-stained ash basket fits perfectly on our training wheel platform. If you add a weight insert, you will be all set to participate in a novice draft test. The price of this package is significantly less than if the items were purchased separately.
Deluxe 16" Starter Kit with Wire Basket... $284
Deluxe 16" Starter Kit with Wooden Basket... $294
Starter Kit Options
TW Weight Insert ... $ 20
20" White Plastic Wheels Substituted for 16" wheels... $20***
(See them in the Products and Samples section of our Photo Gallery)
***Recommended for dogs over 28 inches.