Harnesses & Equipment, Books, DVD, Fun Stuff
Harnesses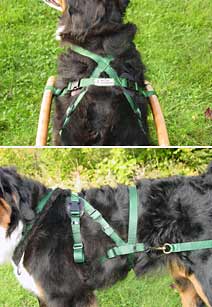 Wilczek Nylon Siwash Dog Harness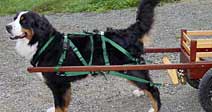 Breeching Strap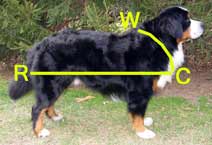 Harness Measurement
Wilczek Nylon Siwash Carting Harness ...$65
Our recommendation for dogs that will pull carts and/or wagons. The Siwash harness allows the dog free movement in the shoulder area, and ensures the dog will use his chest to pull. Forward girth belt includes loops to hold shafts in place; rear girth belt keeps harness in place when the dog is at rest. Features padded collar and 2000 pound test nylon webbing. Includes adjustable traces.
In 2005, after extensive testing and consultations with respected experts, we modified the design to incorporate improvements to the original design that we carried. In the "Wilczek Siwash Harness", the forward girth belt is attached to 2 side release snaps sewn into place about 2-1/2" from the top of the neck. The snaps have neoprene padding under them and the neck padding is extended to where the webbing is sewn. This change allows the girth to completely drop off when the snaps are released while still allowing a snug fit of the shaft loops. This arrangement also helps greatly when using the dogs as a team with a single center shaft. The girth resists slipping sideways with the weight just on one side of the dog. The second change allows the D-ring to be adjusted in two directions - raising the D-ring up the flank or moving towards the head or tail of the dog. This allows you to "fine-tune" the fit of the harness. If you prefer, we can still supply you with the original design for $65.
We stock red, royal blue, green, purple and black harnesses in most sizes for quick delivery but we can also make up custom orders in pink, burgundy, navy, teal, turquoise, yellow, silver, fluorescent green, fluorescent orange, rose, magenta and burnt orange.
NOTE: This harness must be custom made for your dog. Careful measurements (see Measure Your Dog) must be provided to ensure the harness collar fits properly at the breastbone and withers. We may contact you to confirm all measurements.
Wilczek Breeching Strap ...$32
The addition of a breeching strap, used in conjunction with a Siwash Harness, dramatically improves your dog's ability to slow down and brake when pulling heavy loads. This is especially important when descending hills. The dog can lean back and use his hindquarters to control the load instead of just his front end. A breeching strap will increase your dog's comfort and confidence when handling heavy loads.
Puppy Harness ...$65
Adjustable harness grows with your pup. Made of 3/4" web with no padding, this harness is intended for training and no weight pulling only. Not recommended for dogs that have reached maturity.
Puppy harnesses are available in red, royal blue, green, purple and black.
Equipment & Instructional Material
Manual: "Fun with Draft-Canine Training Workbook" ...$20
This workbook has been produced by Phil Chagnon and Lea Doane to introduce dog lovers and their canine companions to the sport of Draft. It is a training reference guide for all levels of draft work.
Manual: "Newfound Draft Work - A Guide For Training"
Second Edition by Consie Powell ...$28

Manual: "Carting with Your Dog" ... $14.95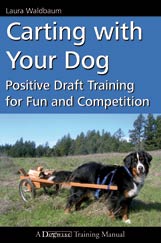 Don't put the dog before the cart... until he is trained!
Many people love the idea of being able to hitch their dogs to a cart and have them pull the kids around the yard or in a parade. Or they have a breed of dog that has been bred to work as a draft dog and are interested in participating in competitions held by clubs around the country that test both dog and handler's skill pulling a cart. While this may seem simple, training a dog to willingly and safely do the work to pull a cart actually involves a lot of learning and effort on the part of both the dog and the handler. In this new book, author Laura Waldbaum will teach you what you and your dog need to know to help develop a "happy draft dog".
You will learn
The skills your dog needs to learn before he is introduced to the cart including attention, how to stop/go/go faster and how to back up
All about the equipment you will need including a variety of harnesses and carts - and how to acclimate your dog to the equipment
The training required based on what your interest in carting - from pulling a wagon around the backyard to participating in parades to formal competitions
What you need to know about draft dog competitions including what to expect, the skills you need to master and how to troubleshoot areas

DVD Set: "Training Your Draft Dog" and "Showing Your Draft Dog" ...$45/set, $25/ea.
This set of DVD's, produced by The Bernese Mountain Dog Club of Southeastern Wisconsin, is colorful and beautiful to watch while being well organized, thorough and very informative. Draft judges and other experienced draft individuals expertly discuss and demonstrate starting puppies, teaching each exercise, cart and harness fitting, and test taking strategies. This set is the best and most complete instructional video material that we have seen.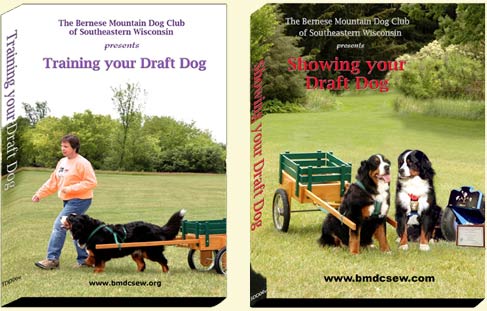 Trees ...$15
Hand-crafted wooden trees connect traces to your wagon.
Sacrificial Tree ...$10
Designed specifically for training, this "sacrificial" tree is dragged on the ground - either by itself, or with light- to medium-weight objects attached.
Leads & Collars
Make your dog's carting "outfit" complete, with matching leads and collars.
Leads:
Nylon web leads available in a variety of lengths and colors.
Limited Slip Collar
Nylon web collar features a limited slip design. The collar Normally fits loosely; when pulled, it tightens just enough to hold the dog securely and/or prevent the dog from slipping out of the collar (no choke). Available in sizes Small (7" - 12"), Medium (10" - 16"), Large (14" - 21") and Extra Large (20" - 32")
Available in red, pink, burgundy*, purple, navy*, royal blue, teal, turquoise, green, yellow*, black, silver, fluorescent green* or fluorescent orange*.
* 3/4" collars not available in these colors.
Other Equipment
6' Lead ...$10.00
1" Collar ...$6.00
Brace Coupler ...$18.00
Extra Traces ...$28.00
Harness Replacement Parts - Call For Prices
4" Skijoring Belt with Towrope ... $55
Other Skijoring equipment available on Special Order
Manual: "Skijoring with Your Dog"
by Carol Kaynor & Mari Hoe-Raitto ...$20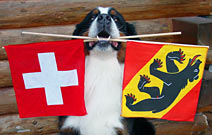 Swiss & Bernese Flags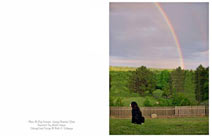 Rainbow Bridge Sympathy Card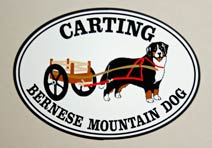 Magnetic Signs
*Skijoring is the exciting sport of being pulled on skis by one or more dogs in harness.
Fitted and adjustable tracking harnesses, and other specialized equipment are also available. Please call (603-444-0824) or e-mail us for more information.
Fun Stuff

Magnetic Signs Oval 7"x5" ... $15
Breeds: Bernese Mtn. Dog, Newfoundland, Bouvier, Rottweiler, Leonbergers (See photos in gallery)
Swiss National Flag
Bernese Flag
Large: 15-1/2" square flag on 33-1/2" wooden stick.... $12.50
Small: 11-3/4" square flag on 25-3/4" wooden stick.... $9.50
Rainbow Bridge Sympathy Card
includes poem inside ... $3