Meet The Craftsman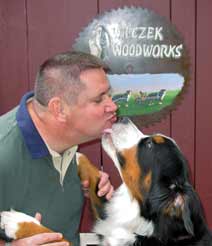 Bill Wilczek and Mac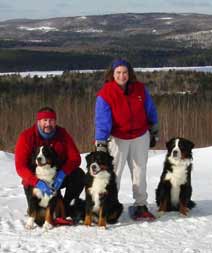 Bill, Barbie, Mac, Rufous & Kessie Snowshoeing from home in Littleton, NH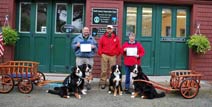 Barbie & Bill receive Christmas Spirit Foundation Awards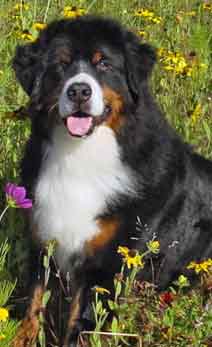 Veteran Brandywine Rufous Sided Towhee HIT a.k.a. 'Rufous'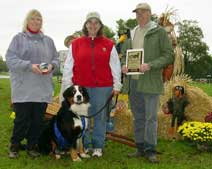 Mac & Barbie being awarded BMDCA Draft Dog Title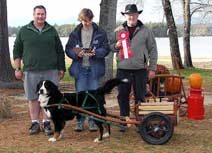 Kessie & Bill being awarded BMDCA Draft Dog title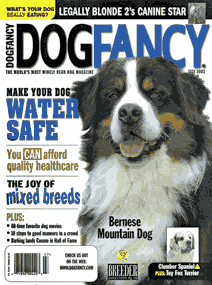 CH Tennescott Machias Oscar Fils CD, DD, NBDD, CGC, TDIAOV, HIT, BMDCA Versatility Dog a.k.a. 'Mac'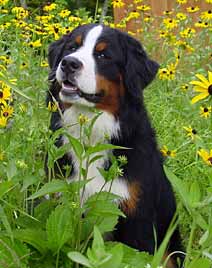 Jefferson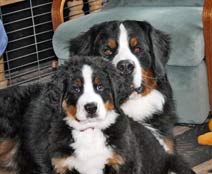 Ripley & Jefferson December 2007
Welcome, my name is Bill Wilczek. My wife Barbie and I live in a log home in Littleton, N.H. We share our home with Bernese Mountain Dogs, our professional equipment testers. We currently have three, Kessie, her son, Jefferson, and her daughter (Jefferson's half sister), Ripley. Unfortunately, we lost our dear Mac to osteosarcoma when he was only six and a half years old in 2006. We lost our first Berner, Rufous, to hemangiosarcoma soon after his tenth birthday in 2007. They are still in our hearts and prominently featured on this site.
A few years ago, Barbie and I left the corporate work environment in N.J. and started very different second careers. I have enjoyed woodworking as a hobby for many years. We also love dog related activities. We have a deep appreciation of nature, enjoy gardening, and are avid birders.
Knowing that the best job you can have is one that provides an opportunity to do the things you enjoy most, we founded Wilczek Woodworks in 2000. We now feel very fortunate to be able to enjoy our hobbies and call it work!
Because we have such great personal interest in all of the items our firm designs and creates, we take great pride in our work. Our efforts and end results are infused with great integrity.
In today's throwaway society, I choose to make quality wooden items that will last not just a few years, but generations. They will become possessions to be proud of, and to share with family and friends. All of our products are carefully crafted and superior quality products.
Cheap lumber, particle board, and plastic parts have no place in my products. I use only the very best hardwoods -- woods that show their true color and beauty without the use of color-enhancing stains.
Everything I create is made by hand, one piece at a time, using ages-old woodworking techniques. From the first cut of personally selected rough lumber to the last coat of finish, each product is crafted to show the rich color, texture, and pleasing grain of the natural wood. No detail is overlooked; quality is never compromised. We pride ourselves on craftsmanship at Wilczek Woodworks. We believe that the quality is remembered long after the price is forgotten.
We believe that customer service does not end with the delivery of our products. We will continue to support you in setting up your equipment as well as your drafting adventures with our equipment and cheer you on in draft tests, parades, and whatever other drafting activities you pursue.
We hope you enjoy our Web site and photo gallery. We know you'll enjoy our products, and look forward to creating something special just for you.
If you have any questions or comments, or would like to see different pictures of a product, just contact us!